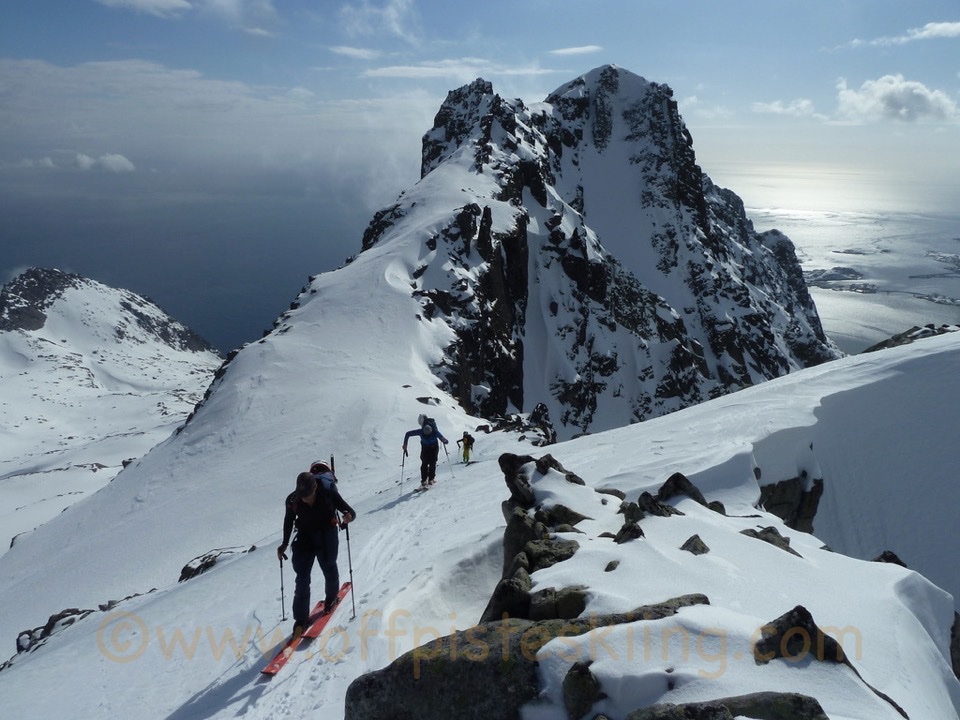 After 2 years of cancelled plans (and epic conditions for the locals!) it was great to finally be heading back to what is one of my absolute all time favourite places to go ski touring – there is a reason why I have been coming back every year since my first visit in 2013!
Blue skies met us on our late morning arrival into Evenes and we excitedly changed into ski gear while waiting for the last bags to arrive… however my ski bag had failed to make it onto the plane, so rather than a tour en route to Lofoten we headed straight to our base, where I was able to sort out some replacement skis (thanks to Seth & Sjur at Northern Alpine Guides!) and we headed out for a quick afternoon leg-stretcher to suss out conditions.
For our first full day we headed back to the same general zone as the previous afternoon, with sights set on a couple of the higher peaks in the bowl – as we climbed visibility worsened, but we still had a great ski down in good cold snow, despite a slight mishap with a runaway ski for Dave, which was thankfully recovered lower down!
The forecast was good for the following day so we headed back to the mega-classic South gully of Geitgaljen. Surprisingly the car park was pretty quiet and we enjoyed an amazing blue sky day with great skiing right down to the fjord at the teepee!
From Lofoten uber-classic to esoteric gem – on day 4 I dug into my 'little black book' and we set off for an adventure out West. The obvious line went up some grim looking rock slabs, with signs of past and potential future full depth slab avalanches, but the map hinted there might be a sneaky way around this area, and so it proved, with a handy 'bench' between two rocky areas providing access to some amazing bowls up high, with absolute classic Lofoten views and great skiing on cold snow for our first peak, followed by spring snow for our second summit.
The 'little black book' came out again the next day, with a return visit to a line we had been stormed off a few years back. The weather held this time, and we were treated to atmospheric views as clouds rolled in and out, and some surprisingly good skiing despite a very high freezing level!
We headed West once again the folloing day, with sights set on a hanging couloir line that I had been eyeing up for a few years. Snow conditions meant we had to turn around at the bottom of the couloir sadly, with some fun powdery turns back to a low col. We then went exploring in best Lofoten style and ended up with a fine bit of peak-bagging, combined with a narrow gully line down towards the Arctic ocean!
Our final day ski touring on Lofoten for 2022 promised to be a cracker – the weather was stable and we had spots reserved on a (very) fast RIB into the mighty Trollfjord. We were joined for the day by my good friend (and ACMG aspirant ski guide) Chipie and had a stunning day of touring up toward Store Trolltind followed by some close encounters with sea eagles on the boat trip home…
A huge thanks to Mark, Mike, Dave & Jason, and of course Seth, Sjur and all the Northern Alpine Guides crew as well as all the staff at Lofoten Ski Lodge who make a week there very pleasant.
Dates are already set for 2023 so come and join us next year!!