Fancy skiing further afield?
Lofoten Islands, Norway
In 2020 we will be returning for the eigth year in a row to the magical Lofoten Islands in Arctic Norway for 3 separate Lofoten Ski Touring Adventure weeks.
Beautiful mountains with water all around, great ski lines and of course more dried cod than you could dream of…
Dates for trip 1 are 1 – 8 April 2020
Dates for trip 2 are 8 – 15 April 2020
Dates for trip 3 are 18 – 25 April 2020
Full details available on request.
Kyrgyzstan
In 2020 we are excited to finally be returning to Kyrgyzstan after a successful trip here in 2012.
Greenland
In 2019 we put together a small team for a trip to the West coast of Greenland. Check the blog page for a report (coming soon!) on this fine adventure!!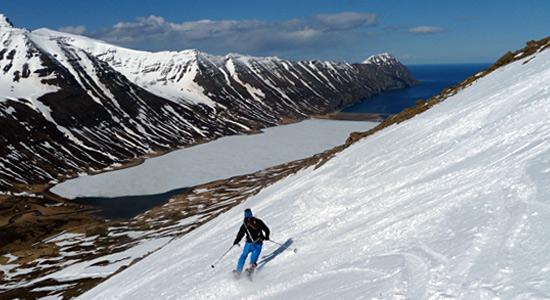 Troll Peninsula, Iceland
After a successful trip in 2018, we are excited to be returning again to the Troll Peninsula on the North coast of Iceland. A great ski touring destination, with natural hot springs as an added bonus!
Please contact us for dates: