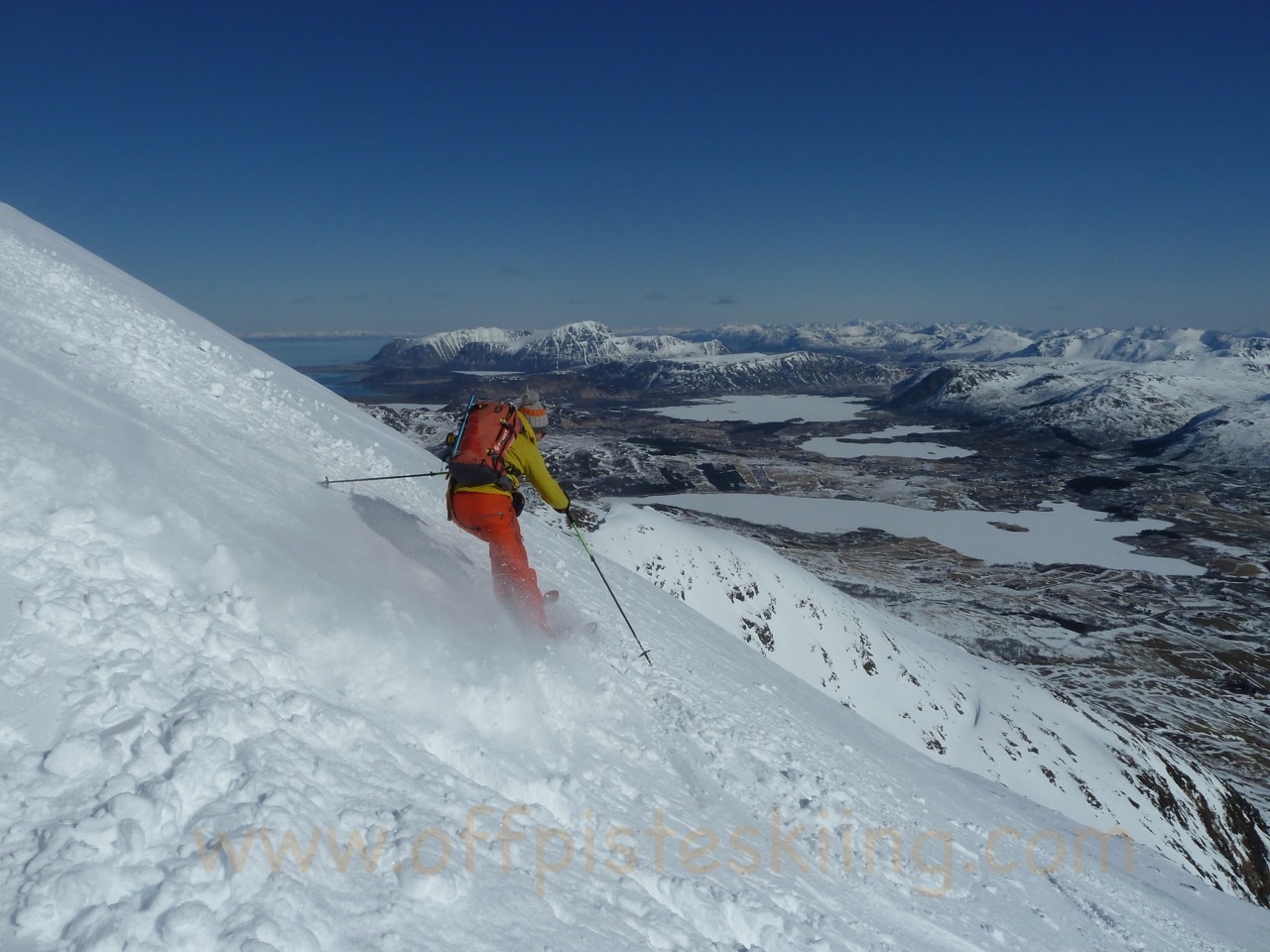 Well that is a wrap on spring number 7 up in the fantastic Lofoten islands, and what a fortnight it has been – 14 days out of 14 skied – a new record for me in terms of the weather!
Having waved goodbye to team 1 on Sunday morning team 2 arrived early afternoon and with blue skies in full effect were fully psyched to get straight out touring, so we headed out for a quick lap on Varden, while waiting for our 6th team member to arrive:
With the forecast contiuing to hold good and the team now complete we headed to one of the many 'Breitind's for a great circuit taking in 3 different bowls and valleys, with a final exciting gully then combat ski back down to the road:
The next day we set our sights on Langstrandstind – a mighty peak that sits opposite Geitgaljern. With ice bulges in the middle of the access slopes this needs a good fill of snow and stable conditions to be viable, and had eluded us so far in previous years. With a positive report from my friend Kristin who had been up there a few days previously we set off with high hopes, and were rewarded with great snow up high and spectacular views to the mighty Rulten and neighbouring peaks and fjords:
On the Wednesday I took the gamble of heading West to a slope I have looked at for 7 years and never felt that conditions were right. Today was THE day, with good cold snow up high, quickly turning into perfect spring snow lower down. A fine exposed 'line in the sky'!
To top it all off on the way up we were treated to the sight of a sea eagle swooping at a fox (must have been near its nest?), and on the walk out a snow-white weasel was playing in the tussocks of grass next to us for a good 5 minutes:
The following day, with another team heading for my primary objective we decided on a magical mystery tour out to the far West. With a couple of initial objectives not working out we moved on to plan C and an alternative start to a peak we had skied a few years back – this time we not only made the summit but also had great views (unlike our previous visit!):
The weather was finally due to break, so it was time to look for good objectives for bad visibility. Again my plan A option (as per the previous day) was thwarted, this time by the TGR crew who are currently on Lofoten filming with Sage Cattabriga-Alosa, Ian McIntosh and Christina Lusti. Again we moved on to a plan B, and once again plan B revealed itself to be a fine option, with a great couloir line tucked away in a hidden valley:
For our last day we headed to one of Lofoten's most eye-catching couloir lines – again this one has been in my 'little black book' for quite a few years and it was nice to stand on top of the peak and then ski the couloir in great cold snow – with the bowl below giving some of the best creamy cold snow of the trip so far! What a way to end the trip.
And that was that – 14 days skied out of 14 – a new record for me given Lofoten's usually variable weather. Huge thanks to Ian, Mark, Leanne, Mike, Costin and Cedric for a top notch week, and thanks also to Lofoten Ski Lodge and all the Northern Alpine Guides crew!