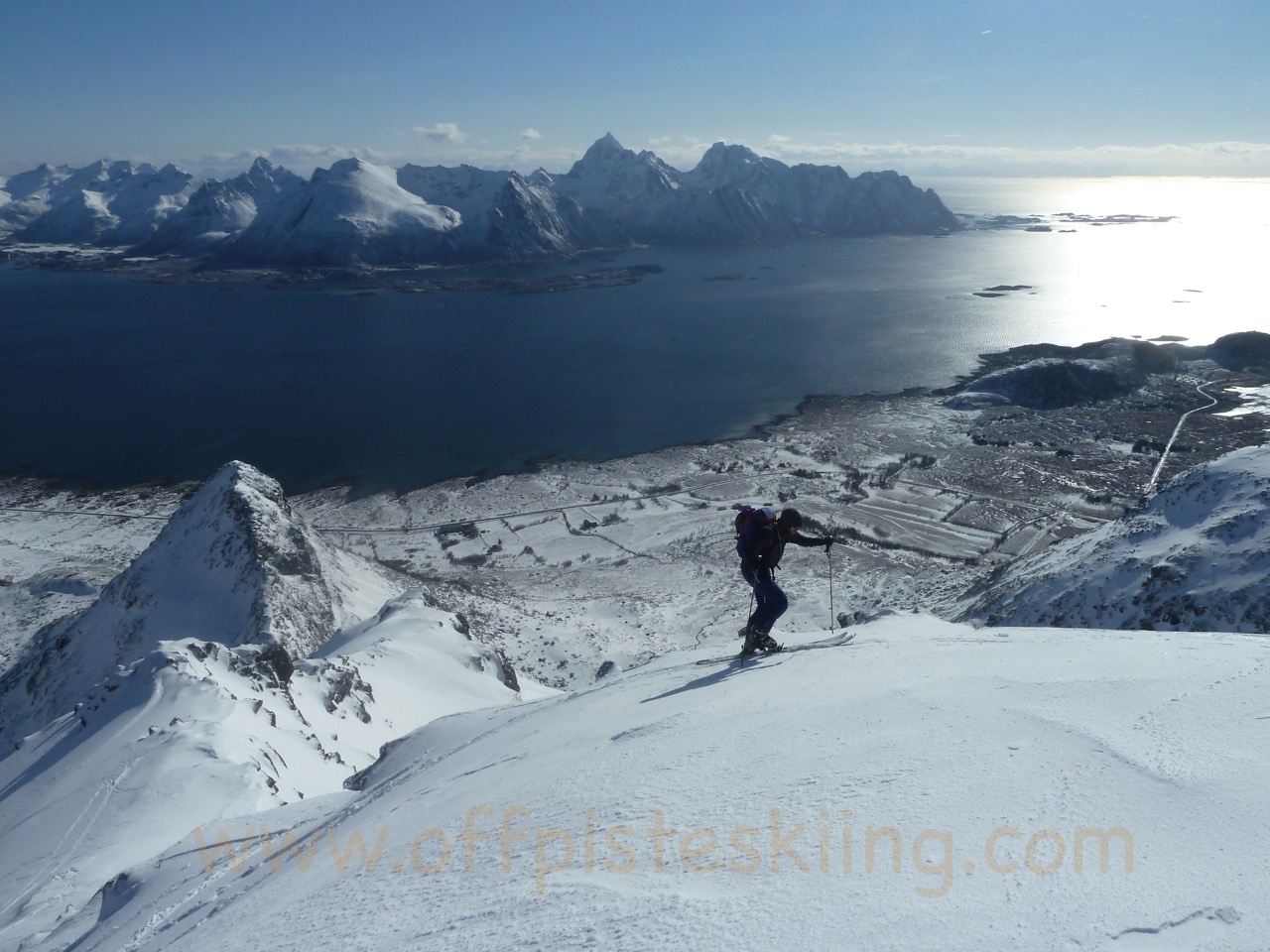 …and so it came to pass that for the 7th year running I found myself journeying North to the Lofoten Islands.
With an early flight North and time to kill on the drive out to our lodgings we stopped for a quick mini-tour on the way:
The official day 1 of the trip dawned cloudy and snowy with a middling forecast so we headed for a tree and gully option which gave 3 fun descents:
The forecast for day 2 was grim, but showed a chance of clearing in the late afternoon, so we did the touristy thing for the day and waited… sure enough at 5pm it dried up so we put skins on and headed up for a quick summit of Ørntind before racing back for dinner:
The following day the forecast was calling for clear weather until 2pm, with snow inbound after that. With the damp weather of the previous day we needed a venue that would allow us to gain height quickly so headed to one of my tried and tested 'sure bets'. The snow had actually firmed up nicely and to top it off the weather held out far longer than expected so we skied 2 great laps in the North bowl and then the North East bowl, with a cheeky mini-gully to finish it off:
The forecast for the next few days was looking good so on Thursday we decided to go exploring out West – on the drive out to our initial objective another peak which I have looked at for years but never got around to skiing was looking good, so we diverted to that and had a great day with noone else around – no mean feat on one of the busier weeks of the Lofoten touring year:
On Friday we continued further West for the previous day's inital plan B – for once we actually shared the mountain with other skiers, but they were all skiing the West face, and we had the perfect spring snow of the South face all to ourselves!
The forecast was good again for team 1's last day, so we took a gamble and headed further West still to a peak I had previously visited some years ago. In contrast to the last visit where we had great spring snow low down and wind-blasted snow higher up this time the top shoulder was perfect corn snow, while the optional spicy exit gully was somewhat firm though still skiable although the way down to a deserted rocky cove looking back South West to the mainland…
A huge Thank You to Ryan, Alex, Ben, Ed and James for a top week of adventuring!