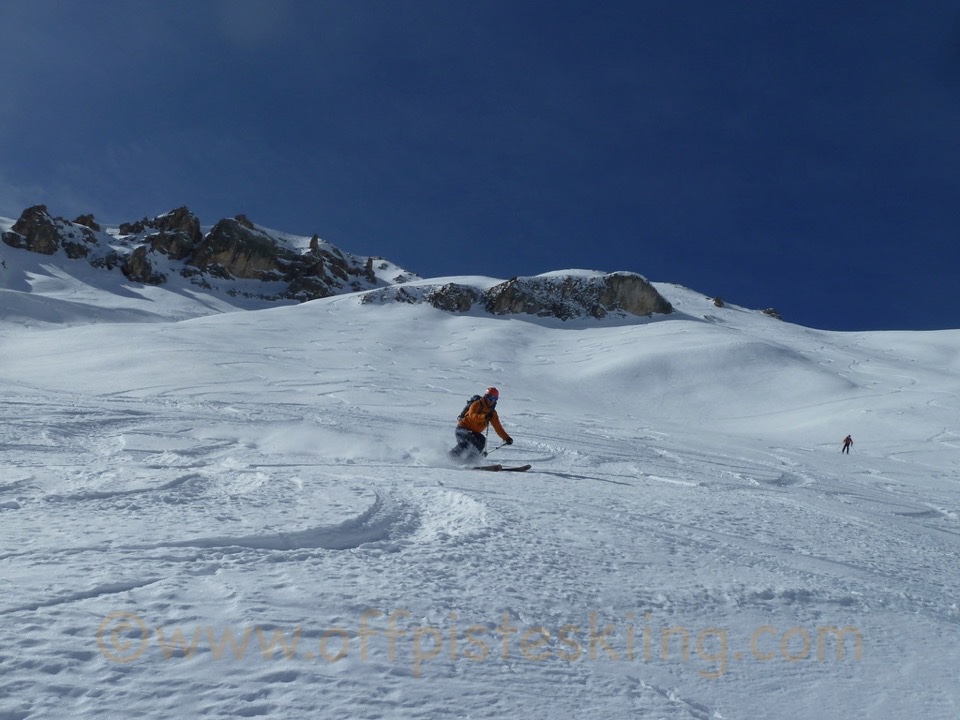 It was great to be back in the Haute Maurienne again after a 'winter' off in 2021!
Based in Termignon for 6 days of off piste coaching and adventures it became very apparent on day 1 that the valley was suffering a serious lack of snow – in 15+ years coming down here this was by far the 'lowest tide' I have ever seen. However, as always down here, you just have to play with location, aspect & altitude and it is rare that there is not some good skiing to be done.
Day 1 was a shakedown day for everyone – first day back on skis since pre-pandemic for some:
On day 2 a short tour from the lifts took us onto some prime unskied cold snow for a great descent all the way to the valley floor, followed by a coaching session around the lift system:
On day 3 we switched plan of attack to go looking for spring snow with a bonus summit too! A couple of hours skinning took us to a great viewpoint over the end of the valley, with some nicely-softening corn-snow for the descent.
With 3 great days in the bag it seemed like a hard act to follow to keep the level up, but for day 4 we switched to a 'powdery' plan again with a short skin from the lifts to access one of the Haute Maurienne's mega classic descents. Great steep powder skiing on the upper slopes – a short diversion skin for lunch overlooking the valley and some bonus turns, then a little bit of combat skiing through the exit gully and a final short walk down fields to get to the road again – what a day!
With the continuing blue skies on day 5 we opted to head high but again go looking for spring snow on South facing slopes up above Orelle. As it turns out we found more than just spring snow, with some good cold snow holding on at altitude on East facing slopes and som surprisingly good skiing!
For the final day we decided to go into full touring mode, using the lifts at La Norma to gain altitude and then heading for the summit of the Belle Plinier.
The snow on the descent was a little mixed, but very skiable, and a good chance for everyone to put their now well honed skills to the test. A great way to round of the week – challenging conditions, but the Maurienne delivered!